Statement:
When thinking about voting today, I'm mindful of the need to be vigilant, to make the effort on all election contests local to federal, and to the energetic beauty that comes from everyone doing their part to be good citizens. To vote means to participate in the experiment of democracy, an experiment that doesn't continue on its own. It needs each and every one of us to exist.
Biography: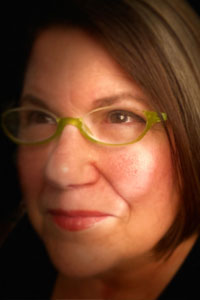 Award-winning illustrator, educator, author and entrepreneur Whitney Sherman was trained as a photographer and has held positions as an advertising art director, publications designer and art director, VP/Creative Director, illustrator, and educator in Graphic Design and in Illustration. She is the Founding Director of the MFA in Illustration Practice at MICA; Co-Director of Dolphin Press & Print @ MICA; Faculty of MFA ILP Thesis; and Proprietor of Whitney Sherman Illustration and Pbody Dsign.
Her art has appeared in The New York Times, Business Week, Forbes and most national publications, and has been published by The Discovery Channel, Random House, Henry Holt & Co, McGraw-Hill, Harlequin Press, and St Martin's Press, and by Tolleson Design, Pentagram, Ronn Campisi Design, Herman Miller, and other national design firms. Urban Forest Project, Southern Poverty Law Center, The Red Cross, The Ad Council, YMCA of Greater Chicago, American Federation of Teachers, American Medical Association, Johns Hopkins Hospital, American Bar Association, the Robert Wood Johnson Foundation, Stanford University and Harvard University are among her clients.
Sherman is the creator of the Breast Cancer Research stamp, the nation's first semi-postal stamp, which has raised over $88 million dollars for research; it is the longest running stamp in the U.S. Postal Service's history. She is also co-editor of History of Illustration (Bloomsbury/Fairchild), the first textbook devoted to illustration history across cultures.